Archives: August 2002
| | |
| --- | --- |
| Dues-Payer | Union-Member |
| Gets little benefit from membership. | Takes advantage of contract enforcement (including CBAs), discounts, pension fund, recording residuals and more. |
| Accepts any gig regardless of pay. | Works only for Scale, thus promoting higher wages in south Florida. |
| Misses out on additional payment for recordings of live engagements. | Calls the Local in advance to see if there's a contract on file for an engagement. |
| Does not have the strength of the Local working on their behalf. | Attends meetings to voice opinions and volunteers to serve on committees. |
| Misses out on notices of auditions, new benefits, Local accomplishments, and more. | Reads the newsletter to keep informed of official business and local items of interest. |
| Is "happy" with the status quo. | Grins and wishes more musicians took advantage of all the union has to offer! |
Union News
From AFL-CIO Work in Progress and other sources
Miami Janitors Fight Antiunion Drive...Miami-Dade public school janitors and maintenance workers, members of AFSCME, forced the school board to postpone and then pull a decision to privatize operations and lay off as many as 300 workers.
ON THE VERIZON—Members of Electrical Workers Local 824 in Tampa, Fla., voted on a new contract with Verizon Communications Inc. that would provide a 12 percent pay increase over three years. The two sides reached agreement on the proposed package, covering 5,300 technicians and customer service workers in six central Florida counties, two months before the expiration of the current contract. The contract also calls for employer neutrality during Local 824's organizing of workers at any Verizon Florida company.
New FPO Members
Winners of the June auditions are:
Dina Kostic, Violin II
Adina Plesa, Violin II
Courtney Sedgwick, Viola
Bernard Vallandingham, Viola
Congratulations!
On July 8th the AFM sent me to New York to attend ongoing negotiations with the new Latin recording labels. We met at the law offices of Attorney Norman Samnick, council for the record labels. Sony Discos, EMI Latin and WEA Latina were represented, along with AFM representatives President Tom Lee, council George Cohen, Electronic Media Director Carol Sato, Contract Administrator Pat Varriale, Special Assistant to the President Dick Gabriel, San Antonio Organizer Mike Muniz, and myself. Out of the first seven recording projects by Latin recording labels under the AFM agreement, six were done in Miami.
MPTF and Gold Coast Jazz Present Kid's Concerts
Leader Simon Salz and his band explored the development of jazz from Dixieland to Bossa Nova for Broward County Students last October and again this past May. About 2,400 seventh and eighth graders from seventeen Broward elementary schools attended.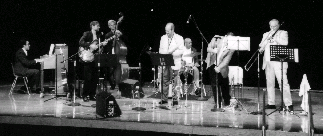 Contribute to TEMPO!
Support those that lobby on your behalf for immigration, copyright, internet streaming, airline baggage, and other issues. Include an extra $1 in your next annual/work dues check!
… Southern Conference …
I recently served as Vice-President of the Southern Conference at our annual meeting in Nashville. There were a number of new ideas and concepts presented this year, among them is a new program that will allow bandleader / contractors to file pension on their own behalf without having to incorporate. This should be helpful to all of our members as the inability of leaders to get their pension has been a stumbling block in getting them to file on behalf of the sidemen. There was also an interesting recording seminar chaired by Melissa Hamby Meyer from Local 257 in Nashville, along with Marycolette Hruskocy from the Pension Fund which introduced some ground-breaking ideas in terms of assisting Locals in cleaning up recording contracts that have problems. This new initiative brings the Pension Fund into the picture sooner in most cases where there are problems and Locals need more muscle in getting the record companies and producers to do the right thing.