Archives: September 2003
Peter Graves' Jaco Pastorius Big Band album titled "Word of Mouth Revisited" on the HeadsUp label (a division of Telarc International), released nationally on August 26, has made waves on the charts. Tthe album has been #1 on the Jazz Week chart (airplay), #12 on Billboard (sales), and is Record of the Month in France. Reviewers from the LA Times to the Washington Post have praised the album.
Bandleader Peter Graves, a Local 655 member since 1966, has also served as President of South Florida Musicians Association since 1998. He started his professional career playing on the Jackie Gleason TV series from 1967-1969 and has toured and recorded with the Bee Gees, receiving 6 platinum albums and numerous platinum and gold singles.
Guest bass soloists on "Word of Mouth Revisited" were Victor Wooten, Gerald Veasley, Victor Bailey, Richard Bona, Christian McBride, Jimmy Haslip, and Felix Pastorius. Local 655 musicians on the album were: trumpets-Jeff Kievit, Ken Faulk and Jason Carder; trombones-Dana Teboe, John Kricker and Craig Gosnell; Saxes-Billy Ross, Ed Calle, Mike Scaglione, Gary Keller and Mike Brignola; keys-Mike Levine; guitar-Randy Bernsen; drums-Mark Griffith; arranger-Larry Warrilow.
After four years of bidding Miami finally hosted the Latin Grammy's. The telecast opened with a tribute to beloved Cuban salsera Celia Cruz, who passed away July 16th. Forty- one musicians, singers and dancers honored a woman who, although gone, is very much in the minds of Latin music lovers. Local 655 bandleader and saxophonist, Ed Calle* led the house band of Local 655 musicians which featured Arturo Sandoval* on trumpet. The segment, produced by Emilio Estefan*, featured La India, Marc Anthony, Gloria Estefan, Oscar D'Leon, Victor Manuelle, Olga Tanon, Willie Colon and El General.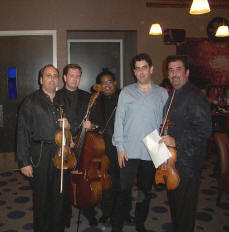 The 2003 Latin Grammy House Band, which performed under an AFM contact, included:

*Ed Calle (Music Director/Leader, saxes), *Arturo Sandoval (trumpet 1), *Jim Hacker (trumpet 2), *Jason Carder (trumpet 3), *Dana Teboe (trombone), *Richard Bravo (congas), *Edwin Bonilla (timbales), Archie Peña (bongos), *Lee Levin (drums), Robert Vilera (percussion), *Sal Cuevas (bass), *Jeff Carswell (bass), *David Cabrera (guitar), *Dan Warner (guitar), *Manny Lopez (guitar), *Alfredo Oliva (violin), *Orlando Forte (violin), *Chauncey Patterson (viola), *Chris Glansdorp (cello), *Jim Gasior (synthesizers), Alberto Gaitan (background vocals), Ricardo Gaitan (background vocals), Vicky Echeverry (background vocals), and Monica Sierra (background vocals).

*Local 655 member