Archives: August 2007
Recording Engineer by day, bassoonist by night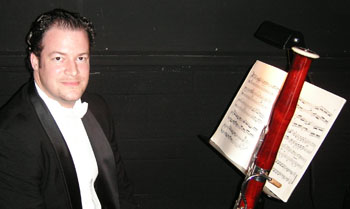 Matt Corey got his start as a saxophone player at age 11. He recalls, "I liked playing the saxophone, but my instrument was a hand-me-down, and the case was really ugly...I was embarrassed to carry it around! One day, I saw a notice on the bulletin board that the band had two new bassoons for anyone who was interested. Even though I had no idea what a bassoon was, I figured the case had to look better than what I had, so I gave it a try. I really liked the sound, so I stuck with it." Matt continued his studies at the University of Miami, receiving Bachelors and Masters degrees in Bassoon Performance, and eventually began a Doctorate in Multiple Woodwinds, putting his saxophone background to use while also studying the clarinet.
Membership Meeting, Wage Scale increases, Annual Dues, and Elections are in this month's notice.
Unionized wireless service just got even better with a 10% discount from AT&T Wireless.
Orlando Phil Gets Organized
Musicians of the Orlando Philharmonic Orchestra (OPO) are seeking to be represented by the Central Florida Musicians Association.
Letter Carriers Protest Outsourcing
Members of the National Association of Letter Carriers have staged informational pickets to protest outsourcing of their jobs to private companies. In Florida, private carriers used to be used only in sprawling, underpopulated areas, but now high-rise developments in urban and suburban areas are being handed over to private carriers paying low wages and no benefits.

According to a nationwide study by
Americans for the Arts
, the arts were responsible for over 4200 jobs and $153 million in economic activity in Broward County. The arts organizations also generated over $14 million in local and state government revenue.