Archives: September 2007
City of Pembroke Pines Parks & Recreation Department
Music Teacher - Salary: $ 25.02 per hour (6 hours per week – flexible hours)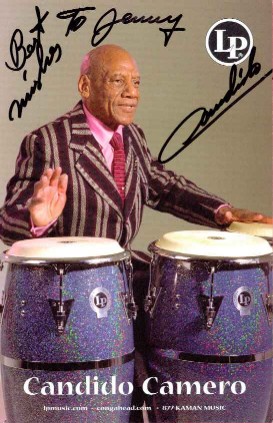 Candido Camero, a member of South Florida Musicians Association since 1960, has been named a National Endowment for the Arts Jazz Master and will receive the award in New York City in October.
The Cuban-American percussionist pioneered the use of more than one conga drum, using up to three congas and bongos to play melodies in addition to providing rhythmic and harmonic accompaniment. Candido has performed on the Jackie Gleason Show, The Ed Sullivan Show, and on many specials, and has played with Dizzy Gillespie, Count Basie, Celia Cruz, Tony Bennett, Tito Puente, Lionel Hampton, Duke Ellington, and many other greats. He was also a member of the Billy Taylor Quartet.
Membership Meeting Reminder
Just a reminder that the next membership meeting will be held on Friday, September 7, 2007 at 11 AM at the Local offices. On the agenda are the proposed Bylaw amendments held over from the May 10, 2007 meeting due to lack of a quorum (please go to http://www.afm655.org/item/507 for more information), and the Bylaw amendment from last month's notice ( http://www.afm655.org/item/540/ ).
Elections
Please note that nominations are now open for elections for the 2008-9 term of office. For more information, please go to http://afm655.org/elections/ . The deadline for nominations is September 20.
Need a rental car? Enjoy up to 25% discount savings on rental cars for union members - from Union Plus
Audition for all of the major local area contractors at one time, sponsored by South Florida Musicians Association, the organization of professional musicians.
The cost of living in south Florida continues to go up...faster than anywhere else in the country.
According to Americans for the Arts,
nonprofit organizations in Miami -Dade
county brought $922 million to the economy in 2004, and supported almost 23,000 jobs. The organizations also delivered over $100 million in local and state tax revenue.