Member Profiles
Name: Derek Ganong
Instruments: Trumpet, Piccolo trumpet, Flugelhorn
Member Since: 2017
Why did you join AFM Local 655?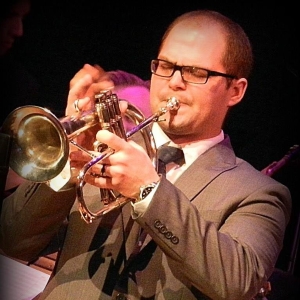 I want to become a part of the union of professional musicians to show my support for the profession as well as to help promote a healthy and productive community for music professionals.
Tell us About Yourself:
Influenced by the cross study of ethnomusicology and trumpet pedagogy, Derek is a highly adaptable and adventurous musician and performer. Equally at home in the orchestra, big band, chamber group, or commercial settings e, Derek has shared the stage with Arturo Sandoval, Barry Manilow, Maria Schneider, Kevin Spacey, Danilo Perez, Vince Mendoza, Terence Blanchard, Wayne Bergeron, and many others. He has performed as guest principal trumpet with the National Symphony of the Dominican Republic, the Space Coast Symphony, the Boca Sinfonia, the Miami Symphony, the Henri Mancini Institute orchestra, and the New World Symphony.
More:
http://www.afm655.org/instruments/detail.php?lastname=Ganong,D