Member Profiles
Name:Mateja Kalajian
Instruments: Violin
Member Since: 2015
Why did you join AFM Local 655?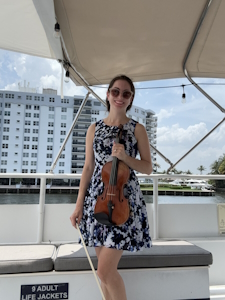 So I can receive audition notifications.
Tell us About Yourself:
Mateja Kalajian is a graduate of the University of Miami's Frost School of Music with a degree in violin performance, and has experience teaching private violin lessons as well as teaching orchestra.
More:
http://www.afm655.org/instruments/detail.php?lastname=Kalajian

Write reply
Comments must be approved before being published.