Member Profiles
Name: Lucian Williams
Instruments: Guitar, Piano, Bass, Banjo, Vocals, Arranger
Member Since: 1990
Why did you join AFM Local 655?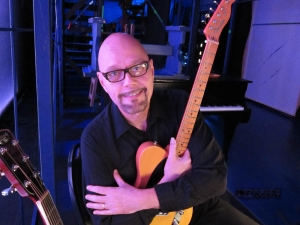 I believe in the necessity of collective bargaining power.
Tell us About Yourself:
Lucian "Luke" Williams began his musical career in the Northeast, growing up in New Britain, CT. After studying arranging at Berklee College of Music in Boston, he taught guitar at the Hartford Conservatory and performed with bands in the New England area. He was the musical director for the Neighborhood Arts Program in New Britain, directing the orchestra and smaller ensembles. Luke then relocated to New York City. During his ten year residence there, he worked a steady jazz trio gig at Rascals on the upper east side of Manhattan, and continued his vocal studies with noted operatic tenor, Carmine Gagliardi. He also established the jump swing band, Lew Willie & the Snapdragons which performed at such well known venues as the Ritz, Tramps, the Bitter End, Kenny's Castaways, Folk City, and the Lone Star Cafe. Since moving to Florida, Luke has worked as a full time musician, arranger, orchestra leader, vocalist, educator, and instrumentalist (guitar, piano, electric bass) - working as a sideman for several prominent society bands and holding a steady engagement as solo pianist at the Key Biscayne Yacht Club.
More:
http://www.afm655.org/instruments/detail.php?lastname=Williams,L

Write reply
Comments must be approved before being published.