Member Profiles
Name: David Drubin

Instruments: Drums and Percussion

Member Since: 1971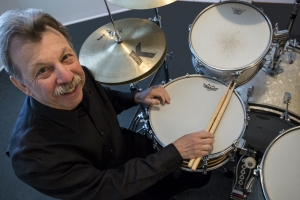 Why did you join AFM Local 655?
To meet other professional musicians, have benefits, and be part of a musical community
Tell us About Yourself:
Born in Brooklyn, New York in 1951, David Drubin started as a tap dancer at the age of five. Drums became part of his life at the age of seven. Taught by Jack "Red" Snyder, he began performing in shows in Brooklyn and Long Island. As a teenager, he appeared on The Ted Mack Amateur Hour tap dancing and playing the drums. In 1969, David arrived in South Florida from New York to attend the University of Miami on a music scholarship which positioned him as the "drum chair" with the University of Miami Jazz Band. "That was one of the greatest periods in my life. I had the good fortune of being in school and playing with great players, such as Pat Metheny, Will Lee, Danny Gottlieb and Mark Egan to name a few," states David. "Playing shows and gigs around town with guys like Jaco Pastorius is something you never forget."

More:
http://www.afm655.org/instruments/detail.php?lastname=Drubin

Write reply
Comments must be approved before being published.