Member Profiles
Name: Robert Deutsch
Instruments: Cello
Member Since: 1972/2018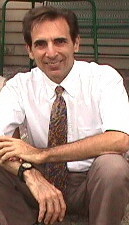 Tell us About Yourself:
Born and raised in Miami, Robert Deutsch recently left his position as Principal Cello of the Adelphi Chamber Orchestra in Bergen County, NJ, to return to his roots in South Florida. Robert made his solo debut with the Miami Symphonic Society at the age of 17. He studied with Aldo Parisot at the New England Conservatory of Music where he earned his Bachelor and Master of Music degrees. While studying in Boston, he participated in master classes with Mstislav Rostropovitch and chamber music studies with Rudolph Kolisch. He has been heard in summer festivals in Sapporo, Japan, Maine, Connecticut, Colorado and Florida and in recital in Northern New Jersey and in such cities as Boston, New York, Miami, and Tulsa. He also has been heard in national broadcast with eminent American composer Gunther Schuller on PBS television.
More:
http://www.afm655.org/instruments/detail.php?lastname=Deutsch

Write reply
Comments must be approved before being published.